HEMP: The Empilation CD!
The Music of the Movement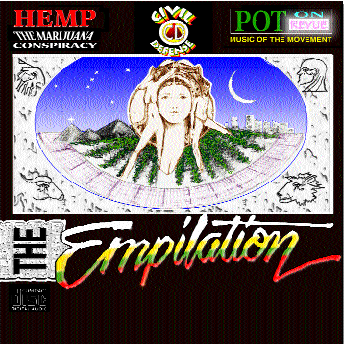 Now available
...From the heart of the hemp movement, The Empilation is a collection of musical selections from musicians supporting hemp de-regulation.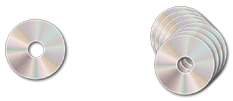 This audio disc contains twelve musical selections from hemp activists and up and coming musical talent from around the United States!
The featured track, The Jack Rap, includes Jack Herer himself stepping up to do the backup in this frank and revealing expression of where the transgressions and imbalances exist culturally that have come from the regulation and persecution of the planet's most important natural resource.
This is not to be confused with the Hempilation, which is good too, you may want to go out and buy it too if you haven't already!!
CHECK IT OUT!!
track 1 Jak Rap ~ Jack Herer & Nobody's Cat
track 2 Free Advice ~ Fullon
track 3 Let It Shine ~ Shotgun Ragtime Band
track 4 Hemp Hemp Hooray ~ Michael M & the Hyper-vue Trio
track 5 Scott's Theme/Torch Trilogy~ This Side of Sanity
track 6 Woody Speaks For the Trees ~ Creakin' Porch Boys
track 7 War On Us ~ Elvy Musika
track 8 Piggy Bank Dank ~ Swine Backwards
track 9 U -n- Me ~ Shotgun Ragtime Band
track 10 Feather ~ The Circle Band
track 11 Crazy ~ Shotgun Ragtime Band
track 12 Sensi Jam to Shiva ~ The Family Tree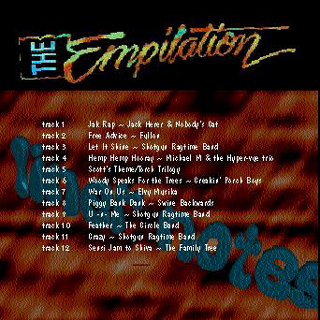 click thumbnails to see liner notes pages for each band
special thanks to Adamos Recording
(P) 1998 ©1993,94,95,96,97,98 The Empilation by Ocular Cuspidor,5715 West Plum Valley Road Rapid City, MI 49676. Printed in the USA. All rights reserved. Unauthorized duplication is a violation of applicable laws.
website ©1999 ocular cuspidor MADE BY MAJIK~* @ INTEGRATED TECHNICAL SOLUTIONS